[ad_1]

Angelina Jolie has alleged that her ex-husband, Brad Pitt, was physically abusive towards her and two of their six children on a flight in 2016 in a new legal filing.
The fight between Jolie, 47, and Pitt, 58, on their private flight in 2016 has long been known as the catalyst for the dissolution of their marriage. However, new details as to what allegedly happened on the flight have emerged in a cross-complaint filed by Jolie's legal team as part of an ongoing legal battle pertaining to the French winery the former couple co-owned.
Jolie's lawyers allege in the filing that negotiations for the actress to sell her share of Château Miraval to her ex-husband broke down when he demanded she sign "a nondisclosure agreement that would have contractually prohibited her from speaking outside of court about Pitt's physical and emotional abuse of her and their children".
READ MORE: Tom Brady and Gisele Bündchen reportedly hire divorce lawyers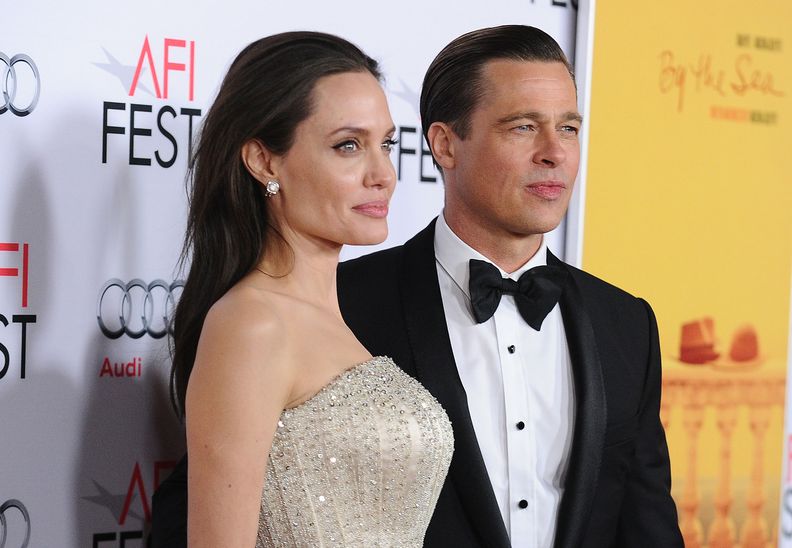 The new filing, which was first reported by the New York Times, includes claims of an extended verbal and physical outburst from Pitt in September 2016, as Jolie, Pitt and their six children flew from France to California.
According to the court papers, Jolie's team alleged "Pitt choked one of the children and struck another in the face" and "grabbed Jolie by the head and shook her". During the fight, at one point, the court documents say Pitt "poured beer on Jolie" and at another point in the fight "he poured beer and red wine on the children".
Days after the trip, Jolie filed for divorce. The flight was investigated by federal authorities as they have jurisdiction over flights, and the FBI declined to bring criminal charges against Pitt.
Several news outlets earlier this year obtained a redacted FBI report on the case, which stated that an FBI agent provided the United States' attorney's office with "copies of a probable cause statement related to this incident".
"After reviewing the document, representative of the United States attorney's office discussed the merits of this investigation with the case agent," the report reads. "It was agreed by all parties that criminal charges in this case would not be pursued due to several factors."
READ MORE: Brad Pitt and Angelina Jolie's six kids: What are they up to now?
Per the report, Jolie was "conflicted on whether or not to be supportive of charges" relating to Pitt's behaviour on the flight.
In August, it was reported that Jolie had attempted to obtain a copy of the FBI report anonymously in a Freedom of Information Act lawsuit, and it's unclear if the report, which is heavily redacted, includes the claims of Pitt choking and striking of two of the Jolie-Pitt children.
The new court filing reportedly includes an account of the incident from Jolie, within which she says that the fight began when Pitt accused her of being "too deferential" to their six children and also yelled at her in the bathroom.
"Pitt grabbed Jolie by the head and shook her, and then grabbed her shoulders and shook her again before pushing her into the bathroom wall," the court filing alleges.
"Pitt then punched the ceiling of the plane numerous times, prompting Jolie to leave the bathroom," it also claims.
The court papers say that when one of their children came to Jolie's defense on the plane, Pitt lunged at the child, which led Jolie to grab Pitt from behind. Pitt then "choked one of the children and struck another in the face", per court documents.
READ MORE: Iconic country singer Loretta Lynn dies 'peacefully in her sleep' aged 90
For a daily dose of 9Honey, subscribe to our newsletter here.
Jolie's lawyers wrote that she had "gone to great lengths to try to shield their children from reliving the pain Pitt inflicted on the family that day". However, when Pitt filed the lawsuit "seeking to reassert control over Jolie's financial life and compel her to rejoin her ex-husband as a frozen-out business partner, Pitt forced Jolie to publicly defend herself on these issues for the first time."
In February, Pitt sued Jolie, alleging she had violated his "contractual expectations" when she sold her stake in Château Miraval to Tenute del Mondo, a Stoli Group subsidiary.
Per the lawsuit, Jolie "pursued and then consummated the purported sale in secret, purposely keeping Pitt in the dark, and knowingly violating Pitt's contractual rights". The contractual rights Pitt's lawsuit refers to includes what he claims is an understanding that neither Jolie nor Pitt would sell their share without the consent of the other.
Jolie's former company, which is now owned by the Stoli Group, countersued Pitt in September and disputed his claim that the sale constituted a "hostile takeover."
According to Jolie's separate countersuit, there was no mutual understanding despite what was described by Pitt, and the countersuit claims that Pitt had, in fact, rejected the idea of a plan for the possibility of the couple separating.
Pitt and Jolie purchased the winery in 2008 and wed there in 2014, and both parties offer differing accounts regarding the sale negotiations falling through. Jolie claims Pitt exited talks after she refused to agree to his non-disparagement clause, but Pitt alleges Jolie exited negotiations after a judge in their custody dispute ruled against her, which he says prompted the sale of her share to the Stoli Group.
Support is available from the National Sexual Assault, Domestic Family Violence Counselling Service at 1800RESPECT (1800 737 732).
[ad_2]

Source link